I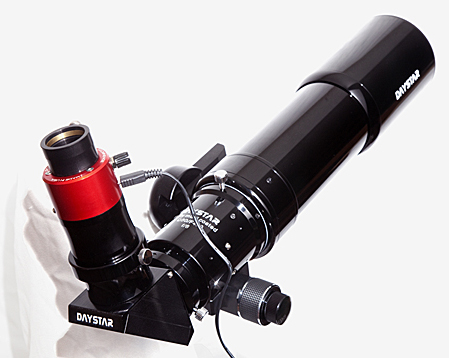 NCLUDES:

• Quality Achromat Doublet 80mm F/6 refractor
with dual speed Crayford Hybrid focuser
with rack & pinion assist
Aluminum Hard Case
Daystar Quark
- in either Chromosphere or Prominence model
2" Dielectric Mirror Diagonal
FEATURES:

• Best Price In Class for 80mm Solar Telescope!
Prominence or Chromosphere model no extra cost
Full 22mm Clear Aperture.
Maximum aperture and focal length which can pass full disk
Maximum aperture with no ERF required
Quality Night time and Solar telescope all-in-one
Quark can be moved to other instruments for different magnifications
Swap filter(s) for different bandpass views
Removable diagonal for straight-through imaging
Always on-band with USB power, 5v 1.5amp
110-240VAC wall adapter (Optional 24mAh battery available)
Tuning knob allows wing shifting +/- 0.5Å
LED indicator for power, warming, ready, fault
5 year warranty
Daystar 80mm Solar Bundle is available
in a choice of "prominence" or "chromosphere"
~ Choose either for the same price of $1,750.00

For further specific information about availability,
please contact sales staff at: 866-680-6563 for further details.
A note about QUARK and SE Grade Uniformity Standards