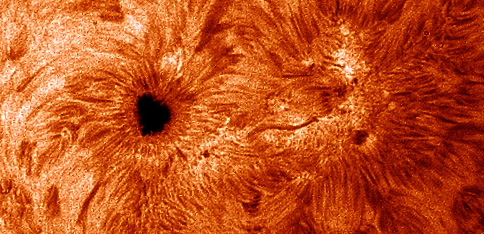 DayStar Filters Terms & Conditions of Sale
Since DayStar clients are world wide, it is important when placing an order to follow the ordering guidelines listed below. For the customers located within the United States, please use the domestic ordering guidelines and for non-domestic clients please follow international ordering procedures. We are happy to assist you with any questions.
Domestic orders:

Many professional institutions and amateur astronomers purchase filter assemblies directly from our manufacturing facility. In these cases, we request a 50% deposit with the placement of the order to start fabrication. As the filter nears completion, you will be notified to submit the balance due.

Accredited firms: DayStar will send you an invoice at the time of shipment of your order.
Terms: Prepaid or COD
Shipment:
United Parcel Service or USPS F.O.B. Warrensburg, Missouri, USA. To insure safe arrival, DayStar suggests clients purchase optional shipping insurance. Shipping insurance with UPS, FedEx and DHL only provide coverage whilst the parcel is within the borders of the United States. Insurance through the USPS is availalable in certain classes of postage, to a limited number of countries to the destination address. Buyers must be aware that shipping insurance is optional and that private carrier insurance does not cover loss outside US borders.
International orders: Full payment in US dollars is required with your DayStar order.
Shipment:
All orders are FOB.
Shipping quotation upon request with address.
Shipping Address:
149 Northwest OO Highway, Warrensburg Missouri USA 64093
Information requested by the manufacture: It is important that DayStar engineers understand your imaging system. When placing your order, please provide your telescope's optical and mechanical specifications. Needed are the outside diameter of your telescope, dimensions of your visual and photographic accessories, telescope manufacture or make and focal length. This information will enable us to optimize your filter for your equipment. Simple filter modifications are available if observing equipment changes at a later date.
Delivery Schedule: The customer must keep in mind that each filter system is manufactured one at a time. Demand and specialized requirements may influence delivery of a particular filter system. Once your custom order has been evaluated, you will be advised of the expected delivery date.
For custom orders, and those filters not in-stock under this schedule, the following details apply: The DayStar T-Scanner Filter system is running a 6 to12 week schedule; ATM Filter systems are running a 10 to 12 week schedule; University Filter systems are running up to a 6 month delivery schedule. With the technology recently developed by DayStar Filters, delivery may be earlier.
GUARANTEE Used as directed, your DayStar filter is guaranteed for ten years. Should the filter become inoperative due to optical or mechanical failure, we will repair the filter or replace it with an equivalent filter at no repair cost to the customer.