Current Pricing of DayStar Hydrogen a Filters
DayStar Sub-angstrom Hydrogen Alpha filtters are rear-mounted filter assemblies designed to operate at the eyepiece position of the telescope. This allows greater adaptability to different telescope configurations and for larger telescope apertures. Rear-mounted filter systems allow for high resolution observing and imaging at focal lengths frequently in excess of 1000mm.
Our filters are classified by bandwidth, not aperture. Narrower bandwidth filters reduce off-band transitence and increase contrast. The smaller the bandwidth, the higher the contrast between on and off/band light.
Filters with 0.7 - 0.8 ångström bandwidths will reveal prominences in high contrast and occasionally, surface texture.
Filters with 0.5 - 0.6 ångström bandwidths will reveal good surface contrast as well as prominences.
Filters with 0.3 - 0.4 ångström bandwidths will reveal excellent surface contrast as well as fine chromosphere detail.
The T-Scanner model is designed to operate at an ambient 73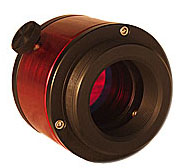 degree temperature with a tilt adjustment to accomodate a shift of approximately 10 degrees F.
The Quantum SE models are designed for dedicated on-band operation for amateur observation, outreach, public observatory and amateur visual and imaging applications. They are tuned at the DayStar Filters Laboratory to maintain to optimum temperature for each individual filter assembly. Doppler shift studies are possible with wing shift buttons that reflect precise wavelength transmission.
Our Quantum PE series is designed for research studies and applications in which precision homogeneity and onband transmitance values across the substrate surface are required. These filters require additional quality control steps and additional fabrication and testing time.